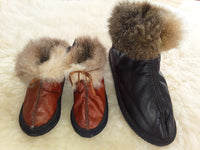 Sadly chronic illnesses among infants, small children and teenagers are becoming more prevalent in the 21st century. We have been making possum boots for bsbies and small children now for the past four years.

If a child has issues whereby their little feet and hands are constantly cold or are in pain, then these are the most appropriate solution... much better than pain medication... which often has negative side effects. All boots are made to measure.

The boots are virtually weightless thus there is no sense of being encumbered by them. The possum fur is amazing against the skin for three reasons;

Warming the foot. Soothing and healing any possible skin irritations. The efflourage effect soothes pain levels via the nerve receptors in the skin. This is all medically proven.