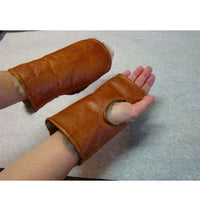 possum super-soft leather exterior and  inside complete hollow fur fibre these mittens refuse to freeze even in the coldest of conditions.
Yet in warm conditions the hollow fibre breathes and the mittens remain cozy. Made from extremely durable Possum leather, tanned naturally and oiled to provide a tough long last water resistant exterior.
Possum leather is thin and lightweight but very tough... second only to polar bear skin. Great relief for nerve pain, cold intolerance and even arthritis and neuropathy.
Once ordered, one week to make and one week to deliver from NZ to you. 
Rain resistant!

Please scroll down to see videos of happy clients.