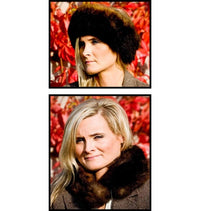 • Classic luxury fur headband, which double as collar, complete with pom pom.
• Black and natural brown normally in stock, softer than mink.
• Ideal to dress up an old coat or jacket
• Superior, instant warmth.
• Elasticated band, so one size fits all
• Health benefit: has been proven to reduce pain in the neck and shoulder region, including arthritis and CPRS
Once ordered, one week to make and one week to deliver from NZ to you.