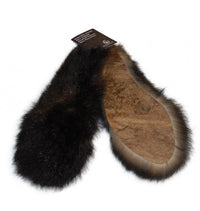 • 100% possum fur and leather insoles
• Instant heat for your feet, regulates temp and moisture level
• Fits into existing shoe or boot and packs down to zero
• Amazingly soft, ideal for arthritis, diabetes and raynaud's, scleroderma, neuropathy, chilblains, cracked heels, cold feet, poor circulation, 

The ultimate solution for cold feet, they fit inside your existing shoe or boot and ideal for diabetics or anyone who suffers with cold feet (great for the wellies!) Priced at €48, we are trying to keep costs as keen as we can given the huge rise in cost of NZ products include shipping to Ireland 
Small =  34 - 39.5 (Size 3.5 - 6.5)
Medium = 40 - 42 (Size 7 - 9)
Large = 42 - 44 (Size 9 - 10.5)
XL = 44.5- 46.5  (size 11 - 13)
These pack down to zero in the shoe or boot, so you do not need a half size bigger. They can also be moved from one pair of footwear to another. Remember, they can be hand washed, flattened out and replaced into shoes again.