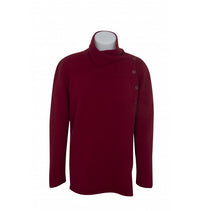 Another new innovative idea for autumn 2014, this a cardy/jacket can be worn fully closed or partially opened to create a different style. Super warm and very soft.

This Style is ideal for the lady who wishes to conceal her "Love-Handles" and "that" area between the lower back and the upper thighs.....so really ladies, a very discreet design. Very slimming and easy to wear.
• Stunning luxury blend of possum merino silk (20% 70% 10%)

• Versatile three-option method of wearing (alternative buttons, half open, fully closed or loose)

• Ideal for discreet concealment of those "love handles" and fuller figures.

• Great over jeans, or smarten up dress slacks or dress in the evening

• 35% warmer than cashmere, occasional hand wash and low pilling.