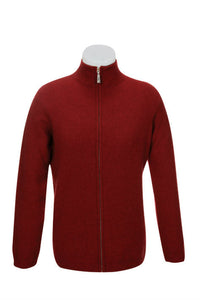 Our simple zip jacket is shaped through the body for a flattering fit, and made with whole garment technology. This means it doesn't have seams and sits better on your body, and this is what makes it one of our most popular styles. It is created from a blend of merino wool with possum fibre, which has a hollow core retaining your body heat within, making it super soft and up to 55% warmer than wool alone. The addition of silk to this blend creates a luxurious feel to rival cashmere.

100% authentic made in New Zealand.

Composition/blend: 70% superfine New Zealand Merino, 20% possum fibre, and 10% silk.
Amazingly light yet very warm
55% warmer than merino
35% warmer than cashmere
Non-itch. Non-pill.