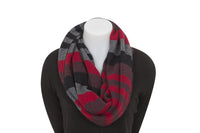 Our new season colour combos are the most vibrant ever, and create a stylish and fun set piece to enhance any outfit. Ideal Christmas or winter time gift. Unisex also. Guys like the darker colours. 
Much warmer than cashmere and much more durable. also non-itch.
Wear it as a double or triple scarf, or on the head and wrapped under the neck as a snood.
Compliments the matching zip cardigans, socks gloves and wrist warmers.
20% possum fibre, 70% merino wool 10% silk
Super soft and super light
Amazingly warm and versatile

You can wear it 6 different ways

: double scarf, triple scarf, wrap, crossover, snood, shrug.