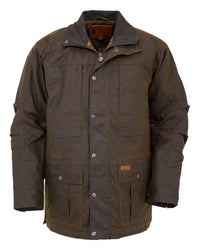 • 12 oz. Oilskin, waterproof 
• Quilted plaid and taffeta lining 
• Buck leather top collar and cuff tabs 
• Two-way zipper with storm flap 
• Adjustable drawstring waist  
This coat is our core item man coat/jacket. Very smart, suitable for race meetings, football matches and most outdoor activities. it really does perform fantastic in very cold and wet weather. And remember, the only cleaning these garments ever need is HANG and HOSE. Re waxing only needed when coat has been exposed to too much sunlight (not likely here) or is left in hot water cupboard.. a big no-no! Always leave in cool, airy place. 
Other features of this jacket include:
• Multiple pockets both inside and out 
• Inside zip closure security pocket 
• Inside concealment pocket
Please note; extra €10 applies to XXL and 3XL due to shipping/weight cost.
|   | MD | LG | XL | XXL | 3XL |
| --- | --- | --- | --- | --- | --- |
| Chest | 44-45" | 46-48" | 49-51" | 52-54" | 55-57" |
| Waist | 42-44" | 45-47" | 48-50" | 51-53" | 54-56" |
| Hips | 44-45" | 46-48" | 49-51" | 52-54" | 55-57" |