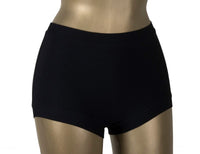 • Handmade 96% cotton 4% Lycra
• No Chaffing. No Riding Up. No VPL (Visible Panty Line)
• Made for Jodhpurs (Ideal for runners, cyclists, golfers, yoga, Pilates)
• Breathable, luxurious fabric comfy fit.
• "Not a sign of a line"
Fanny and Freddie Adams handmade underwear are a remarkable breakthrough in providing comfort and protection for anyone in the saddle. They are designed and made by an equestrian lady in New Zealand, and are considered to be the most amazing "solution for the saddle"
Fanny and Freddie are made from 96% cotton and 4% lycra, giving the underpant an incredibly comfortable, snug, two-way stretch garment that once on, does not move!
These garments are made with no elastic, which means no digging in, no irritation, and no nasty panty-lines! They have a wonderful soft, rich, velvety texture
The popular boy-leg style resists riding up and ensures a comfortable fit that won't need "adjusting" through the day! And because we come in all fabulous shapes and sizes, our knickers do too and are available in sizes small to 4XL.
They were initially designed for equestrian sports however they are now highly desired as the ultimate undergarment for slinky dresses, cyclists, Pilates, yoga and general physical activity.
Exclusive in Europe through Kiwi Country Clothing!
Please note that we also make to order for any hip and thigh measurements. A minimum of four pairs must be purchased for this bespoke service.
Size

Dress Size

S
8-10

M
10-12

L
12-14

XL
14-16

XXL
16-18
3XL

20-22
4XL
22-24

Please note that as each piece is handmade, your colour option may not always be available.