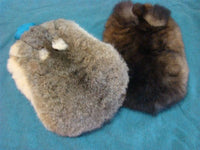 A must for everyone to keep you lovely and warm. The Possum Fur retains the heat alot longer than normal Covers. Fits a Large Hot Water Bottle. Easy opening with velcro straps. Ideal for nursing painful joints, upset tummies.
What a fantastic piece of luxury to gift as an ideal present, and so practical.
Can have it in the office during the day, on the sofa watching TV at night and in the bed for complete snuggle up.
• Ultra luxury for bedtime 
• Two possum pelts in each cover
• Velcro straps for easy opening/closing
• Non-allergenic, and so soft against the skin.
• Ideal for all poor circulation issues.