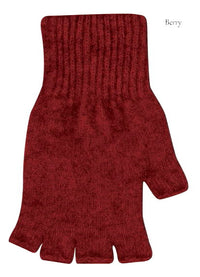 These are the perfect solution for cold hands. Especially Raynauds, scleroderma, arthritis or chilblains. Instant heat for your hands & are medically recommended if you want to work at your computer, on phone or in office, your fingertips will stay perfectly warm as possum merino allows the warmth to circulate to the extremities. These are also tough little workers! Extreme cases of Raynaud's or Scleroderma need full finger gloves or the alternative pure possum solution. Call Elizabeth to discuss your particular needs. 
60% merino. 30% possum. 10% nylon.
Small suits lady with size 3, 4 or 5 feet
Medium suits lady with 5.5, 6, 6.5 foot.
Large suits small male hand or large lady hand.
For xl male hand the large in the KC317 is best option. 
Please note there is direct correlation between size of hands and feet. 
Also the perfect solution for diabetes and Raynaud's sufferers. Practical instant heat solution.