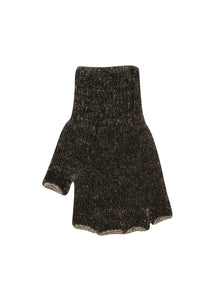 •Warm, yet tough for outdoors work. Ideal for farmers, hunters, equestrian, gardening. Warehouse and coldstore workers, cold classrooms or offices
Rain resistant and very durable. 
• Polypropylene draws the moisture away from skin to exterior of glove
• Cool to warm machine or hand wash
• 10% possum fur, 37% super fine merino, 5% silk, 40% polypropylene, 8% elastane
• Very good gripping for driving. Amazing comfort and warmth.

Oh...and Queen Elizabeth has a pair and delighted with them. I even received a great letter of thanks  from her
Sizes 
Small suits most ladies (unless very large hands)
Medium, large ladies and standard men
Large. Large male hand. 
This unique double possum and polprop layer system enables you to maintain your optimum body temperature (36.6) by cutting out the wind and trapping heat. Super soft. Durable. Ultra warm. Wind killer. Also worth noting is that the finger tips stay warm even though exposed. the whole concept of possum merino is that it stimulates circulation right to the extremities.
This glove best option for working outdoors, though equally desirable to keep hands warm in very cold weather.