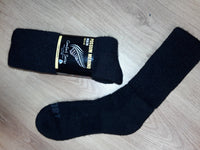 COMFORT SOCKS.
50% merino wool
40% possum fur
10% nylon.
Incredibly warm boot socks which as ideal for underlying health issues with feet
Very low maintenance.. superior warmth, seamless toe wide soft top.
Unique soft knit construction so very soft and gentle against the skin.
Seamless toe, soft expandable top... ideal for type 2 diabetics

Non restrictive cuff/ top....ideal for diabetics
Superior comfort against the skin.
Aids healing of chilblains and cracked heels... especially with farm/work boots
Reinforced high heel.
Extra cushioned sole.
Suitable for a boot or welly or flat shoe.
Prevents build up of sweat
keeps the foot aerated and dry.
1 year guarantee in farm/work boot
Small 3 - 6
Medium 6.5 -10
Large 10.5 - 13.