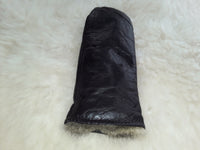 This is a thumbless glove...or sheath for those who require a glove minus the thumb... they are very soft and pliable with amazing warmth. We make to order, so any length, and width, no matter how unique...we can do anything.

The efflourage effect of the possum fur will ease the pain in the hand and stimulate the bloodflow and warm the hand within a couple of minutes. The leather is extremely robust, yet amazingly soft.


Please scroll down to see videos of happy clients.