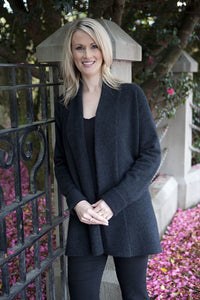 Wrap up warm in this luxurious jacket made with whole garment technology making its seamless for super comfort. This jacket will take you anywhere, and can be worn with anything in your wardrobe. Created with silk, hollow core possum fibre, and superfine merino for superior warmth without the weight and much lower, if any, irritation. This is a staff favourite because it's a truly timeless piece, and it will be investment, with you for years to come with very low pilling.

Made in New Zealand at Palmerston North.

Brand: Native World

Composition/Blend; 70% merino wool, 20% possum fibre, 10% silk.
Amazingly light yet very warm
55% warmer than merino
35% warmer than cashmere
Non-itch. Non-pill.